WORK(2) stands for...
4 - Neon design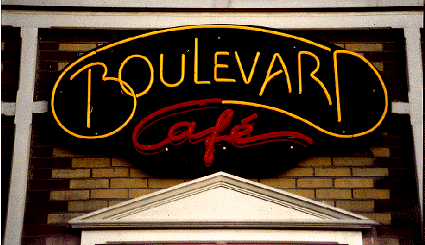 Neon sign for an Amsterdam Grand Café (1989). Logo and sign design.
---
5 - Handwritten texts

Congratulations to Mike van Diem and First Floor Features for winning an Oscar on 23rd March 1998 (best foreign movie) with the impressive, pictoral Dutch movie: KARAKTER. - Writing several documents in a 1900-style handwriting was my much enjoyed contribution for it (of which the testament where i sign 'vader' is shown but in the very last minute...).

- Another small contribution was a handwritten contract as a requisite for a well-crafted Dutch TV-series 'Wij Alexander'.
Card for Peace Through Understanding, 1988


Notice the A-O-M letters.

With each design i attempt to detect, reveal or create accents / hidden messages.
Magical signs and words translated in everyday forms, and vice-versa.

A page by George Ballantine originally written in 1881 was a recent work (1999). The lettertype 'Ballantine' is used as a base for this assignment (of course completely handwritten, the computer does not the trick!).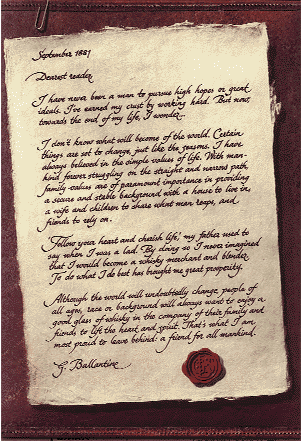 click on page for an enlarged detail
Other work examples will be added successively.

Please contact... Typos Concepts:
P.O.Box 63123, NL-1005 LC Amsterdam
(the Netherlands), phone / fax (+31)20 - 6839606

e-mail your request to: typos@tip.nl
Index - Consequences - Without 1 - Without 2 - Recent -
- PLA - NET 1 - NET 2 - WORK 1 - WORK 2 - Shopping Benefits
- Year Zero - @ - 15 August 1997 - Secret Story - Links - Sitemap -

(Dutch) - Geheim verhaal - Eurowood - Haagse Vredesconferentie -
(German) - Geheime Geschichte -
(italiano) Una storia segreta
(français) Une histoire sacrée sécrète