INTRO - Without knowing it, you may already be part of Planetwork

Recommended jumpstart: - WE ARE ALL ONE - > Consequences of Unity



Could it be that simple?

(May 2015) Are the two main forces of the universes MAgnetical and GRAVitational fields?
A certain proportion of the two is then the base of every element,
hence all periodic elements are inter-changeable.
This opens a science that is nothing short of r-evolutionary.
Exploration of space is now possible, because there is no need to transport anything.
Other planets and galaxies can be reached in an instant, by 'matching' their Magrav field.
Water is created on the spot, as well as food, and any material needs.

Illness can be cured by first understanding its cause, and then balancing its appearance.
Contamination and manipulation (yes, this ends all Genetically Modified Organisms!)
is dissolved and restored to its pristine origin by the same principles.
At present, a year-long experiment to clean up Fukushima is ready to be scaled.
See this 45 min video.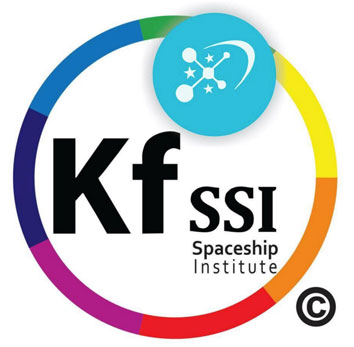 This plasma technology with applications in every imaginable field
(space travel, nano materials, super conductors, food, water, energy, health, security, etc.)
was wisely patented by MT Keshe in 2005/06 and then donated via UN and Baha'i to humanity.
With the explicit aim to end exploitation and if necessary enforcing world peace.
A CO2 cleaning kit is now available through local Keshe Foundations, and via the KF website,
or can be made inexpensively at home with a few instructions and a little caution.
And this was just the beginning. A pain pad relieving inflammatory pain has been developped.
A series of breakthrough adaptations are in the making.

Based now at the LUM University near Bari (Italy), education via live workshops has resumed.
So far, 60 Knowledge Seekers workshops (each 3 to 4 hours), plus 29 concerning health,
some 14 Kids workshops, and a bunch for Chinese, Spanish and Italian speaking participants,
next to a series of live recordings are available at livestream.com or via the links tab on the KF website.
.

(Dutch event:)
First crowd-sourcing event 'It's Happening' was on Easter Saturday 7th April 2012,
another one was on Easter Saturday 30 March 2013.
organised in the 12 sectors of Barbara Marx Hubbard's 'Wheel of Co-Creation' - see below.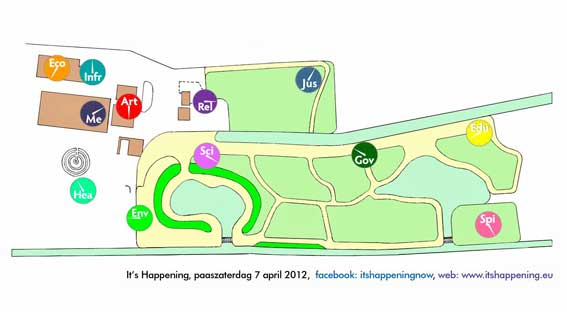 (PS: I designed the above map and co-developped the concept)
Events are planned several times a year. More info on Facebook:
itshappeningnow - Like us and support your favorite initiative/s


Project: Wheel of Co-Creation by Barbara Marx Hubbard, with 12 sectors.
Preliminary design made with open source software cMap and co-created with Barbara Bowen
(example here: sector Infrastructure. Meant to be holographic and interactive in its next stage).
The beauty of this model is that activities and passions are categorized in 12 all-encompassing fields.
These 12 spheres (plus a central hub) can appear as color dots e.g. on visit cards or name tags.
Targeted contacts in conferences, meetings, working groups will then be greatly facilitated.

On Internet, a landing page allows to present global as well (a few layers deeper) local activities.
A smart systemic approach will be used to let everyone participate in building worldwide.
Golden Innovations for each sector serve as inspiration and highlight solutions to present challenges.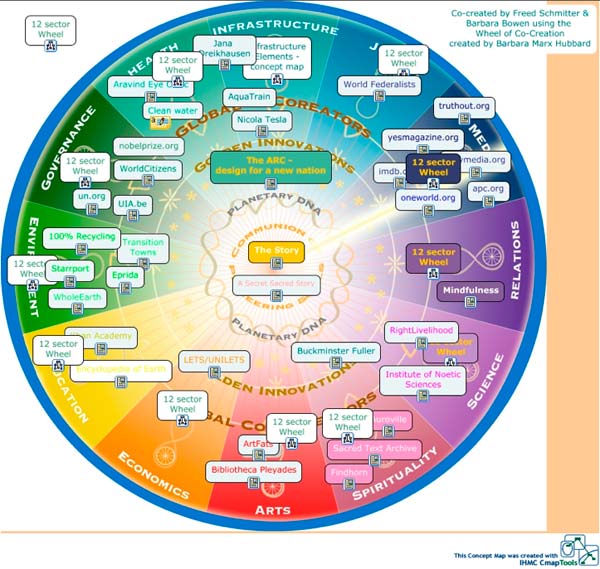 A yearly Shift Network Program:
Spring of Sustainability, Earth Day Summit, hosted by Vinit Allen, etc.
I did take part in this year's Earth Day program (22 April), and got many new insights and connections.
I recommend especially Barbara Marx Hubbard talking with Elisabet Sahtouris.



A few years ago, I created a logo inspired by the Occupy movement: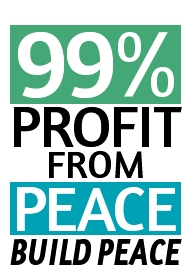 Build Peace - literally, in exactly one of our planet's hotspots:


.
The Arc, Palestine Infrastructure by Doug Suisman and Rand Corp. (2002/2012)
(proposed as 'Golden Innovation' in the above 'Wheel' template)

A first project that is built right now is the new city Rawabi for 40.000 residents, initiated
by the former Palestinian activist / entrepreneur Bashar al-Masri. Planned to be ready in 2013. Image by Bayti.
The Dutch television VPRO / TEGENLICHT presented a documentary (in Dutch) on Rawabi in October 2012.

- And a personal report from a decade ago: Jerusalem Light Summit 2001
included: official Olympic (Peace) Games Proposal for Middle-East 2012 (!?!)


.
Thinking / seeing unity is possible every day, in any circumstances, with any person. `
To explore how this process works, it is adapted occasionally to recent worldnews.
(For a note about copyright see
here
)
----------
Planetwork.org, P.O. Box 63123, NL-1005 LC Amsterdam, the Netherlands - e-mail
----------
Last update(s)

2015: June -12, May -20, -4
2013: March -25, January -12
2012: Nov -15, June -4, May -17, -4, Apr -21, -4, Mar -15, Feb -17, January -9,
2011: December -22, -16, - October -23, - August -4, - April -1
2010: May -6, April -12, -21
2009: September -15
2008: January -22
2007: December -14, May -25
2006: October -26, -05,
2005: May -21,
2004: Aug -6
2003: Sep -1, Aug -1, June -22, Apr -20, -3, Mar -15, -6, Feb -24, - 12, -6, Jan -16, -8,
2002: Dec -22,- 6, Nov -21, -10, Oct -26, -3, Sep -29, -26, -10, Aug -27, -21, -19, June -25, -3, May -26...21, -12, -2
(Website since 1997 - August 15)
----------
-----------
Possible next page: Without Knowing it, You may Already be Part of Planetwork